Ludwig Steiner is one of the palace guards at Weisburg Palace. He, along with Maximilian, often accompany the princes whenever they head into town.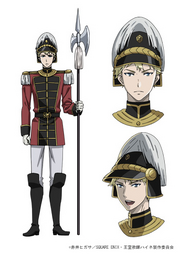 Appearance
Edit
Ludwig has short, cropped blond hair and blue eyes. He usually wears his guard uniform.
Personality
Edit
Compared to Maximilian, Ludwig is more stern and takes his job more seriously.
Ad blocker interference detected!
Wikia is a free-to-use site that makes money from advertising. We have a modified experience for viewers using ad blockers

Wikia is not accessible if you've made further modifications. Remove the custom ad blocker rule(s) and the page will load as expected.